Serena Santona in 10
Get to know Serena Santona, Academic Registrar in 10


Serena, how long have you been the Academic Registrar at Newbold?
I started my role as Academic Registrar on 10 April 2017, but I started working at Newbold in July 2014!
What is your favourite part of the role? We imagine every year feels a little bit different to the year before…
Oh yes! Every year is different, yet every year is a déjà-vu. There are many exciting aspects of the job, and here are my favourites:
Getting to know the students through personal conversation, at times even before they become students.
The annual Awards Ceremony – at this event, my heart is always so full. I always feel like a proud parent (one of my nicknames here at the College used to be "Mama Serena"), even if some of those students are older than I!
Troubleshooting: Newbold is not perfect, and things go wrong at times, and knowing that I can be a person colleagues feel comfortable to ask for help, is rewarding.
I also enjoy visiting colleagues in their office and have short conversation with them – I like when these moments get silly. I think it is important to have "light moments" during the day!
Meeting colleagues from partner institutions, as there is always something to learn from their practice.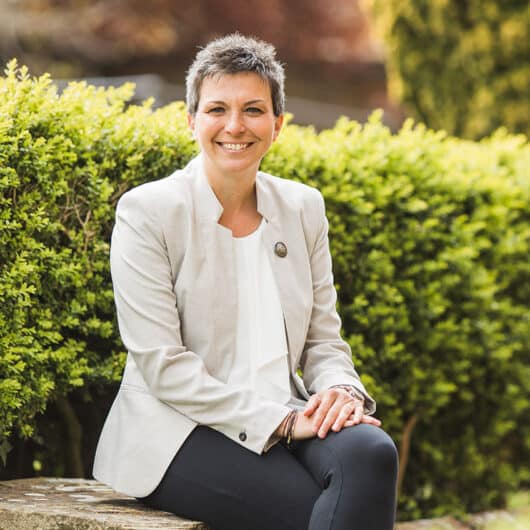 Serena, it's quick-fire round time!

We've booked a trip to Italy. As your home country, where is a non-negotiable must-visit and why?
Oooooohhhh where do I start?! I will tell you not to go to the usual places. Yes, Venice, Rome and Florence are a must, and they have their charm, but try to have "Pasta al Pesto" in The Cinque Terre, spend a day enjoying the natural hot springs at the Terme di Saturnia, walk inside the medieval walls of Pitigliano (aka the Little Jerusalem)  I could go on and on…

We're thinking Italy, we're thinking warm… we're thinking gelato. Flavour of choice?
Stracciatella – I dare you to pronounce it right!

What are you watching on Netflix at the moment?
Not much… I prefer Amazon Prime! I enjoy drama series, mostly around solving crimes.

What is your most prized possession and why? 
This is a good question, but one that I cannot answer. Unless we can count the possessions that are inside my heart…!!

Can you share one of the most memorable days you've experienced to date?
At my age, I have more than one memorable day, so here are a few!
Skydiving
Climbing a Volcano in Indonesia
Spending a camping weekend on a deserted island in the Pacific
Witnessing a baby being born

You've had a long day, and it's time to unwind… what are your favourite ways to relax?
I cook. That is my creative outlet to counteract the extensive use of my left side of the brain.

If you could recommend one thing, we all should try to incorporate into our every day, what would it be?
Make sure you do something that energises you (whether it is running or swimming or starting the day quietly in your garden) and do something that fills your heart (spend quality time with people you love).

If you could describe the Newbold experience in just three words, what would they be?
I am going to respond with three points, but with more than 3 words:
1.     Never dull
2.     Dramatically comical
3.     Painfully rewarding